The 2022 Subaru Love Promise Customer Commitment Award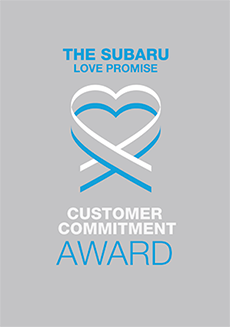 We've been nationally recognized for our dedication to our customers and the Subaru Love Promise.
We're honored to receive the 2022 Subaru Love Promise Customer Commitment Award. This award nationally recognizes Subaru retailers who demonstrate excellence in all areas of customer-focused performance. It highlights exceptional customer service that builds lifelong relationships with Subaru owners.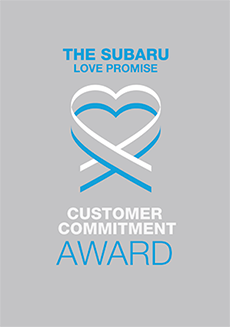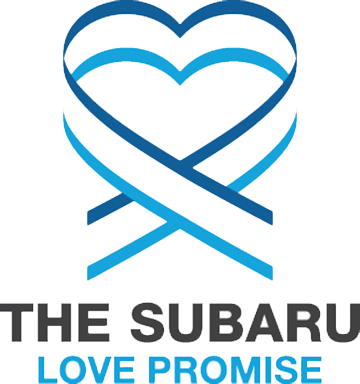 What is the Subaru Love Promise?
Subaru and our retailers believe in making the world a better place and the Subaru Love Promise is our vision of respecting all people. This is our commitment to show love and respect to our customers and to work to make a positive impact in the world.
How is Subaru of Gainesville dedicated locally to the Love Promise?
Our Love Promise can be seen in various partnerships with local charities and non-profits. We're grateful for the opportunity, not only to be a part of our community, but to serve it as well.
Alachua County Humane Society
San Felasco Hammock Preserve
Elder Care of Alachua County
Love Promise Stories from Subaru of Gainesville
Subaru and Subaru of Gainesville believe in making a positive impact on the communities in which we live and work. We uphold that belief through our Love Promise Community Commitment. Every month, we select inspiring stories from customers and partners from around our area who strive to support our collective commitment and feature them here
Jackie the Sassy Cat - Leesha B
Jackie aka the most perfect cat came to us in July as a boarding cat. She had been traveling through the area with her mom when they were in a very bad car accident. Her mom was in the hospital with significant injuries. Jackie was safe but ended up at the local animal services. Her mom's case worker reached out to us for boarding options. Boarding cats usually stay in our associate director and shelter manager's office. Jackie ended up staying for several months because her mom was in and out of the hospital and physical rehab. It was finally determined that her mom was not going to be able to take her back. So we put Jackie up for adoption. Jackie is a sassy, opinionated, and feisty girl who took over the office and was the official greeter of anyone who came to the door. Because the office was not accessible to the public for meeting Jackie we decided to send her to Feelin Good Cafe. Miss Sassy Pants had other ideas! She did not appreciate being in a room with other cats one bit. She was a huge bully and would not allow the other cats near the litter boxes or food bowls. She was also escaping every chance she got haha! So she got herself kicked out after 3 days. She was quite happy to return to her office and resume her "real life". After about a month back in her office she had a really great meet and greet with a man who had just lost his beloved cat to cancer. He was looking for a new friend to share his life with. He missed having a buddy. He came in a couple times to meet Jackie and decided she was the one! She has now been in her forever home, living her best life for almost a month. Thank you Subaru for helping us find pets like Jackie a loving forever home!
---
Southeastern Guide Dogs - Jim E
GM, Chris Baynard and his team at Subaru of Gainesville have been amazing in supporting our cause of raising and training world-class guide dogs for the visually impaired and service dogs for veterans with disabilities. Our Gainesville SEGD puppy raisers are always welcome to visit Subaru with our puppies. It's good socializing for these future superheroes to visit the showroom and service department to get used to the sights and sounds around people and different vehicles on the move. They are welcomed by customers and staff each time we visit. We have held puppy raiser meetings with 12-14 dogs at the dealership. They have supported SEGD by sponsoring a guide dog puppy. Chance has made several visits as he continues learn and grow. We were honored to be chosen last year as the local charity in the Subaru Share the Love event. We received a donation from that event in the amount of $17,812. These dogs are given to the recipient at no charge, so this goes along way in supporting our efforts! Subaru of Gainesville has been excellent in supporting a great cause in our local community. Thank you!
---
Subaru Loves Pets and HSNCF - Leesha B
We can confirm Subaru does love pets! The Humane Society of North Central Florida feels so lucky to have partnered with Subaru of Gainesville. With our partnership, pets were able to find their forever homes at half the cost throughout the beginning of October. Not only did Subaru help so many of our animals become a part of a new family, but they were great to work with. The staff was so welcoming, helpful, and caring toward the animals we brought in. With the help of Subaru, HSNCF can continue to work toward making North Central Florida a no-kill community and act as advocates for pets and pet owners.
---
Subaru of Gainesville Blanket Delivery - Megan R
On June 18th, 2019, the North and Central Florida Chapter of The Leukemia & Lymphoma Society and Subaru of Gainesville had the pleasure of delivering 80 blankets and 25 arts & craft kits to University of Florida Cancer Center as part of the Subaru Loves To Care program. These comforting gifts were accompanied by personalized messages of hope written by the customers and staff of Subaru of Gainesville. This incredible act of generosity was warmly received by the University of Florida Cancer Center staff who were thrilled to distribute these comforting gifts to their patients. LLS is proud to partner with Subaru to spread hope, love and warmth to those fighting cancer, across the country and right here in the North and Central Florida community.
---
Subaru Supports the Alachua Audubon Society - Debbie S
Thank you, Subaru of Gainesville, for selecting the Alachua Audubon Society as a recipient of the 2018/2019 Share-the-Love Program. We are excited to use these funds to build some public use facilities at the new High Springs Treatment Wetlands. The town of High Springs agreed to open the new facility to the public as an environmental education and passive recreational area for bird watching, nature photography, and to learn about using treatment wetlands in the water cleansing process if Alachua Audubon could fund the public use facilities. Thanks to the generosity of Subaru, this facility will be opened to the public upon its completion, which is estimated to be in early 2020.
---
LLS & Subaru of Gainesville Blanket Delivery - David W
Jim met us at UF Cancer Center in Gainesville for the delivery. We were greeted with smiles from the staff at UFCC. The patients were so excited to receive their blanket and notes of inspiration written by the Subaru staff and customers. Jim, LLS and the UFCC staff were humbled by the experience.
---
Subaru and NWF Loves the Earth - Cheryl b
We got a lot done in 2 weeks to our garden and the students like to watch the butterflies and bees in the flowers.
---
Subaru Share the Love Campaign - Heather O
In February of this year, Subaru of Gainesville presented a donation from Subaru of America for $21,878.07 to staff members from the Howard T. Odum Florida Springs Institute. The Institute works to provide a focal point for improving the understanding of springs ecology and to foster the development of science-based education and management actions needed to restore and protect springs throughout Florida. Subaru's Share the Love donation will allow the Institute to continue its research efforts at our springs and provide public outreach through the North Florida Springs Environmental Center, located in downtown High Springs. Thanks to Subaru of Gainesville, the Florida Springs Institute can continue its goal of educating others about the importance of our springs!
---
E- Waste Recycling Event - Jimmy V
As part of the Subaru Love Promise, Subaru of Gainesville collected unwanted electronics free of charge during our April "E-Waste Recycling Event". Throughout the month we invited customers to drop off old TVs, unwanted computers and other discarded electronics to be recycled. By responsibly recycling this E-Waste, our customers have helped us prevent 80 cubic feet of waste from entering landfills and kept the toxic compounds found in those electronics from entering our soil and waterways! Thank you to everyone who participated in the event! We greatly appreciate your support in helping to protect the environment!
---
April 1-30, 2015 E-Waste Recycling Event - Molly M
Throughout the month of April, we are hosting an E-Waste Recycling Event in our store to collect unwanted electronics. We've arranged to work with a company who will responsibly collect, re-purpose, and recycle your electronic waste. Help us protect our environment. Just show up with your E-Waste and we'll do the rest! The first 50 customers who contribute will receive a complementary environmental badge of ownership. We will accept: LCD Monitors, Cell Phones, Laptops, Tablets, CRTs up to 40", Video Games/Consoles, Fax Machines, DVD/VCR Players, Printers, Computer Peripherals, Switches/Routers, Cords and Wires.
---